Building more equitable and diverse universities is vital, but it can be challenging. By integrating equity into their bargaining process and prioritizing it in their negotiations, the faculty, librarians, and professional staff at the Northern Ontario School of Medicine have made remarkable progress on these issues.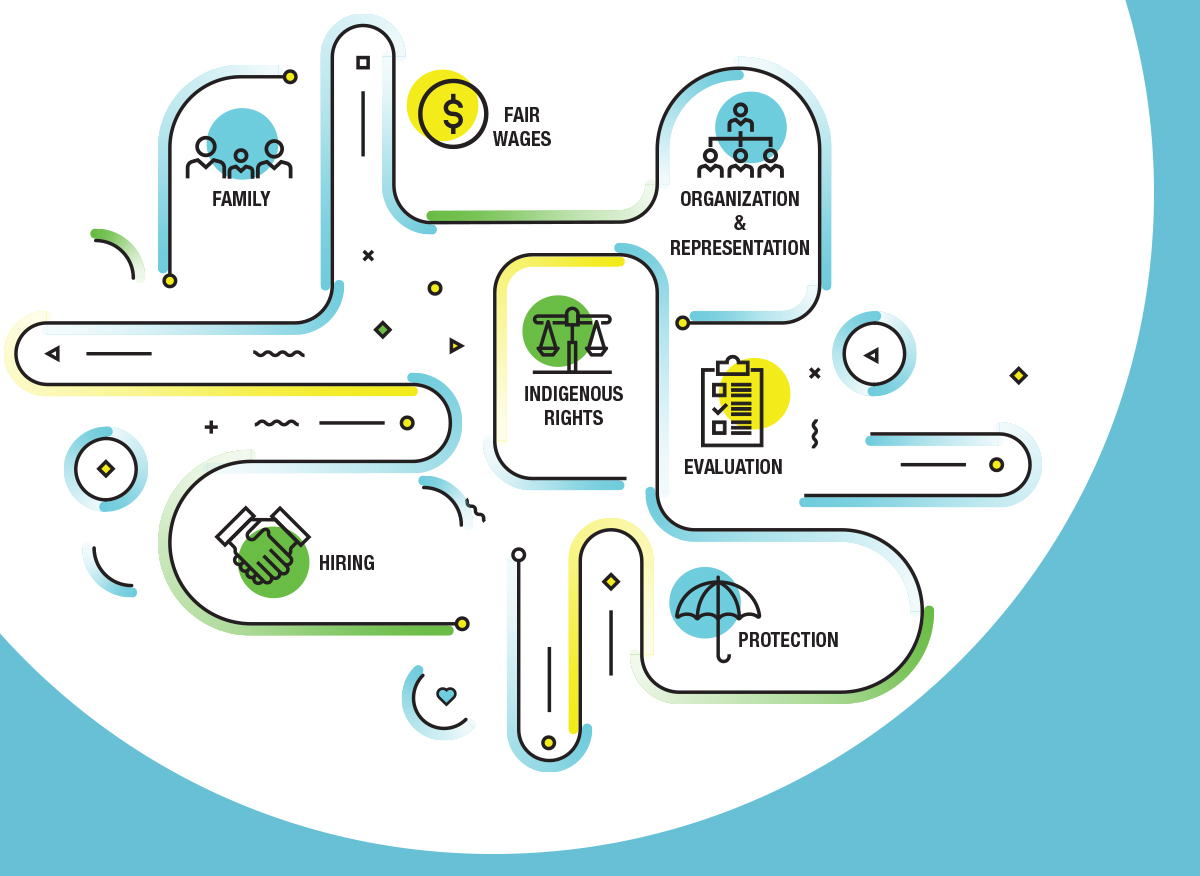 While we must continue pushing for stronger legislation that advances equity, in many ways collective bargaining is more effective than legislation in creating equity and fairness in the workplace and broader society. This is especially true in jurisdictions with weak employment standards, such as Canada and its provinces, where analysis by the Organisation for Economic Co-operation and Development has demonstrated that collective bargaining is crucial for improving worker rights over and above those provided in legislation.
Substantive equity, rather than formal equality, includes the goal of addressing specific needs of specific equity seeking groups. Mainstreaming equity is the view that equity must permeate the entire collective agreement and not be limited to the vital equity and no-discrimination clauses. These approaches frame this article, which summarizes equity gains made by the Northern Ontario School of Medicine Faculty and Staff Association, and discusses several relevant political considerations for advancing equity on a postsecondary campus.
Equity must permeate the entire collective agreement.
The history of NOSM
The Northern Ontario School of Medicine (NOSM) is the Faculty of Medicine for Lakehead and Laurentian Universities. Academically, it reports through the senates of both institutions, but is its own legally distinct institution, complete with a board of directors.
When my colleagues and I were hired by NOSM in mid-2004, we found ourselves as an unorganized group of faculty, in a sector where almost all faculty are represented by their own faculty associations. Looking to change this, we approached the Canadian Association of University Teachers (CAUT) and, with their help and that of the Laurentian and Lakehead Faculty Associations, founded the NOSM Faculty Association in 2005 (now the NOSM Faculty and Staff Association). In early 2006 we became a certified union under the Ontario Labour Relations Act and began negotiating our first collective agreement.
Our first challenge was determining which other workers we should compare ourselves with so that we could ensure our members were being treated fairly and equitably within the broader sector. Although Canada has a relatively decentralized bargaining system, the university sector negotiates within a broader unionized context and uses comparators to justify terms and conditions of employment. Since we were considered employees in the Faculty of Medicine for two universities, both the employer and union agreed that the terms and conditions of faculty at Lakehead and Laurentian, as well as other Ontario medical schools, would serve as appropriate comparators.
Another challenge was that our union includes both academic staff (faculty and librarians) and professional staff (instructional designers and student counselors), which is unusual for Ontario. However, as this is more common in other provinces, we were able to use those collective agreements as comparators for our professional staff members.
Building foundations for equity in bargaining
In 2006, we were negotiating in a relatively new context. The 2003 ruling of the Supreme Court of Canada that "the substantive rights and obligations of human rights codes are incorporated into every collective agreement" was an important frame of reference. We had a legal obligation to prevent and address systematic discrimination.
Of great benefit to the (then) NOSMFA in our first round of bargaining were the comprehensive resources (e.g. model clauses, bargaining advisories, sharing of best practice, staff assistance) developed by other faculty associations as well as organizations such as CAUT, including those about establishing and enhancing equity and fairness. These resources proved indispensable in our first round of bargaining, as was the support of CAUT generally.
Achieving equitable bargaining outcomes requires integrating equity into the bargaining process. With this in mind, we ensure that our negotiating team for each round includes persons of each gender, and a combination of academic and professional staff. Members of the negotiating team are also selected on the basis of their complementary skill sets.
Achieving equitable bargaining outcomes requires integrating equity into the bargaining process.
In addition, our union has a remarkably large executive, allowing for a full range of participation in discussion and decision making at the executive level. For the academic and professional staff bargaining unit, the development of bargaining objectives involves holding individual meetings with all the members of each group
that make up the bargaining unit. In those meetings, the negotiating team discusses its research and thoughts on possible equity advances with members, seeking their feedback and suggestions.
Integrating equity into hiring and evaluation
In our first set of negotiations, the association established numerous bargaining objectives, with the goal of  implementing equitable hiring and evaluation practices at NOSM. We won agreement with the employer on:
a proactive statement of commitment to equity;
a list of equity-seeking groups;
the need to take special care to not eliminate equity candidates early in the hiring process;
comprehensive non-discrimination language, with provision for a range of accommodations;
the identification and elimination of unfavourable policies and practices currently in operation;
an equity representative on all personnel committees;
equity training for all persons on those committees; and
the sharing of information subsequent to hiring (the review process).
In addition to all members of personnel committees receiving equity training, there is a comprehensive and mandatory orientation on procedural fairness in career decisions. In both cases, the union has taken the lead in cooperation with the employer on the training. We also bargained a requirement that search committees report how equity provisions are applied in their decisions.
Another notable achievement in the first collective agreement was the inclusion of language requiring the employer to exercise its management rights in a fair and equitable and reasonable manner consistent with the agreement.
Following our first round of bargaining, we have significantly improved our initial equity hiring language, with the provision that, "where two or more applicants are substantially equally qualified as the best candidate and one of these applicants is a member of a designated group, then the applicant who is a member of a designated group shall be recommended for appointment."
Finally, to ensure fair and equitable evaluation processes, we negotiated language stating that peer reviews of teaching may only be conducted at the request of members and that the results are confidential to the member except if the member wishes to include them in their teaching dossier and/or relevant personnel file.
Achieving equity through organizing and representing diverse groups of workers
Improvements to equity and fairness rely on extensive coalition building with other unions and social movements. For us, one such instance was accepting an invitation from NOSM's support staff (office, clerical, administrative, technical, and service employees) to organize them into our faculty association. By 2009 this was achieved, and we became the only union at an Ontario university to represent both academic and support staff.
With a broader range of members than the traditional "faculty" association, the NOSM Faculty and Staff Association (NOSMFSA) works to identify rights enjoyed by some members and not others. With equity in mind, we have secured improved rights for librarians and professional staff, including:
sabbaticals, research time, and salary anomaly adjustments for librarians;
a multi-rank wage structure for librarians and professional staff with significantly higher wage ceilings;
significant increases in vacation for librarians and professional staff; and
the establishment of a salary anomaly fund.
With equity, fairness, and the health of all members in mind, the union has taken language from a previously negotiated harassment and bullying policy and integrated significant pieces of that language into our collective agreement.
In our most recent round of negotiations, our academic and professional staff unit negotiated concrete representative rights for our colleagues in the support staff bargaining unit. Any change to employer policies pertaining to harassment, discrimination, or workplace violence would have to first be discussed by a working group that includes representatives from all bargaining units. In addition, we negotiated an obligation on the part of the employer to include support staff unit representation on the Joint Benefits Committee.
The support staff organizing drive took place at the same time we decided to transfer our existing bargaining unit into the Ontario Public Service Employees Union (OPSEU). Our new union provided us with a special transfer agreement that respected our unique nature as the only university academic staff unit in OPSEU at that point in time (the Algoma University Faculty Association has since joined). OPSEU provided the resources to enable us to defend the newly negotiated rights to fairness and equity in grievance-arbitration.
Rights are meaningless if you cannot defend them and, as a small new faculty association with few resources, we found in OPSEU a union that would let us run our own affairs and maintain our affiliations, while supporting us in defending equity and fairness. With OPSEU, we are in a progressive union in the house of labour, in alliance with a huge variety of workers in a range of sectors.
Protecting jobs, academic freedom, and collegial governance
Fairness and equity, as well as academic freedom, are contingent upon stability and certainty of employment. Our first collective agreement had language ensuring that layoffs could only be made for financial exigency, not program redundancy, and only after an independent commission had investigated the employer's declaration of financial exigency. Additionally, in the first set of negotiations, all professional staff then on term appointments were issued continuing appointments. The school and association also agreed on strong language to prevent contracting out.
Fairness and equity, as well as academic freedom, are contingent upon stability and certainty of employment.
Faculty members employed during the first collective agreement were deemed founding faculty and permitted to apply for tenure under a founding faculty tenure option, with tenure achieved on the basis of three satisfactory annual reviews. Fair and appropriate procedures are clearly delineated for appointments, promotion, tenure and continuing appointments, assessment, and evaluation.
Inclusive academic workplaces require the promotion of collegial governance and the full participation and academic freedom of members. Since the first agreement, we have been successful in extending academic freedom protection to all professional staff as well as the academic staff. In addition, we have expanded the academic freedom article to include recognition that collegial governance supports the exercise of academic freedom and that all members are entitled to have representatives on, and participate in, collegial governing bodies.
Inclusive academic workplaces require the promotion of collegial governance and the full participation and academic freedom of members.
Fair wages
During our first round of collective bargaining, the employer proposed merit pay. The proposal was considered by the membership in a series of meetings and ultimately rejected. We were a relatively small group—collegiality rather than competition needed to be fostered. It was also recognized that such a proposal was likely to increase inequity in the workplace, especially for female members. Instead, we negotiated a professional development fund additional to the annual professional development monies secured in negotiation for individual members.
Given that our members work in the Faculty of Medicine for two universities, the employer accepted that if the average wage increase for faculty at those institutions ended up being higher than those at NOSM, then our wages would be adjusted upwards accordingly (along with our salary floors and ceilings).
Focusing on family and life outside the workplace
The initial collective agreement also focused on work-life balance and included many family-friendly provisions—allowing leaves for study, sickness, family responsibility (maternity and parental), and other reasons. In this area, as with others, collective bargaining has secured breakthroughs that lead to improved employment standards for all (e.g. better paid maternity leave won in the Quebec Common Front negotiations in 1979 and by CUPW across the country in 1981).
Subsequently, we have clarified and improved the language providing for family-friendly leaves. The employer must now top up a member's salary, regardless of whether they have been entitled to employment insurance benefits from their first day of hire. The collective agreement now also provides for the possibility of an additional retroactive progress-through-the-ranks increment, should a member have been delayed in their promotion application as a result of an illness or family responsibility leave.
Indigenous rights
In the lead up to negotiations in 2018, our executive decided to take a leadership approach on equity and fairness for Indigenous peoples. The national context is well known—the Truth and Reconciliation Commission and its Calls to Action have pointed to the obligations faculty associations have as members of the university community. In Northern Ontario (Thunder Bay and Sudbury are NOSM's main campus locations), racism and persecution of Indigenous peoples has been ongoing for centuries.
Our executive reviewed and adopted CAUT's Policy on Indigenizing the Academy and shared it with the membership. Subsequently, the members demonstrated their support for bargaining objectives related to this policy, including the need to recognize the additional contributions, qualifications, and community work undertaken by Indigenous faculty members.
In negotiations, we secured the expansion of the definition of scholarly activity to include "research carried out using traditional/Indigenous knowledge and the practical applications or dissemination of such research generally, or specifically through engagement with Indigenous communities." In addition, we negotiated language to recognize the provision of linguistic (translation) services as a governance and administrative activity.
We also negotiated special provisions for members who do community-based research that requires engagement with First Nations, Métis, or Inuit communities. These members can request the election to their personnel committee of two additional voting members who conduct similar research or have taught Indigenous health at the university level.
In addition, we agreed to improve equity data collection and renewed our commitment to identify and eliminate discriminatory practices. Subsequent to negotiations, the parties decided to proactively recruit a Research Chair who "self‐identifies as
First Nations, Inuit or Métis or who has significant Indigenous lived experience."
Conclusion
There are goals we have not yet achieved, but towards which the work continues. We always negotiate with a long-term vision and do our best to foster a productive and positive relationship with the employer when it comes to issues of equity and fairness.
One unrealized goal is that of organizing and improving the working conditions of NOSM's contract faculty. Although our support staff unit includes part-time members, thus far we have been unsuccessful in organizing NOSM's part-time faculty. The rise of contingent and precarious contracts is one of the most significant threats to equity and fairness at our institutions and within society more generally, and it is a threat that OCUFA and its many affiliates, including the NOSMFSA, are committed to tackling.
Another broader goal is to strengthen legislation protecting the rights to free association and free and fair collective bargaining. In Canada, governments have legislated permanent exceptions to our human right of free association, undermining the rights of all Canadians. Both the International Labour Organization and, more recently, the Supreme Court of Canada, citing the Canadian Charter of Rights and Freedoms, have repeatedly condemned these legislative breaches of our human rights.
Finally, and most recently, the introduction of "performance" based funding models in several provinces, including Ontario, represents a significant threat to academic freedom and equity. To win this challenge, we must join and fight in broad-based coalitions with other workers, students, and community groups. We should also engage with our members to find new and creative ways to bring these damaging metrics to heel at the bargaining table.
Despite these many challenges, collective bargaining continues to provide us with a vital tool to advance equity in our workplaces. By looking at the past fifteen years, we can see just how much progress bargaining has allowed us to make on these issues. Looking forward fifteen years, I'm optimistic we can achieve so much more.
Geoffrey L. Hudson is President of the NOSM Faculty and Staff Association and OPSEU Local 677, as well as Chief Negotiator for the Academic and Professional Staff Unit. He is an associate professor (history of medicine) in the Human Sciences Division, NOSM.