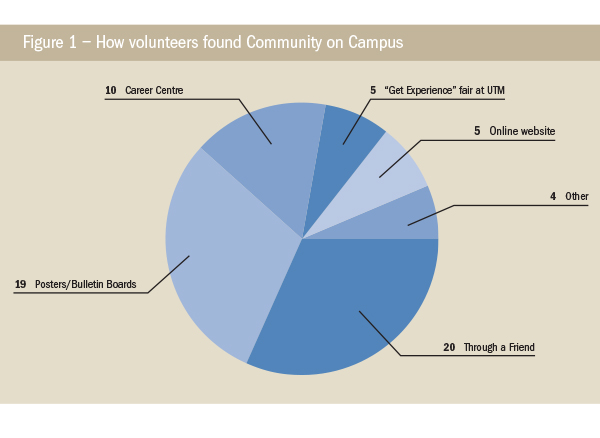 An innovative program at the University of Toronto Mississauga allows individuals with intellectual disabilities to experience university life.
This is the story of a unique partnership between the University of Toronto, and Community Living Mississauga, a local charitable organization that provides support to individuals living with intellectual disabilities. These two organizations have joined forces to promote inclusion for young adults who have intellectual disabilities within a university setting. The story unfolds primarily from the perspective of the university and, as such, can inform other postsecondary institutions about the benefits of fostering the inclusion of young adults with intellectual disabilities.
What is it?
Community on Campus (COC) is one of several day programs offered by Community Living Mississauga (CLM). This unique program provides an opportunity for young adults with intellectual disabilities to participate in a range of activities at the University of Toronto Mississauga (UTM), one of the university's three campuses. In addition to auditing classes and volunteering in several areas of campus life (e.g. Student Centre, Women's Centre, campus radio, campus day care, library, gym), participants enjoy activities such as fitness classes, swimming, weight lifting, or going to the pub to shoot a game of pool. Individuals are welcome anywhere they go; they are provided with the same access and respect and held to the same social standards as any other UTM student. One COC staff member from CLM coordinates the schedules and activities, and one-to-one support is provided by UTM student volunteers. Participants in the day program can spend up to 16 hours per week on campus for a period of three years.
What is it for?
Individuals who have intellectual disabilities are among the most excluded social groups in North America (Partington, 2005). Although the public education system provides such individuals with a free and appropriate education until the age of 21, there are few options for meaningful daily activities in adulthood. Work opportunities are limited for those who do not graduate from high school, resulting in high unemployment among people with intellectual disabilities (Burkhauser & Stapleton, 2004; Dyda, 2008; Levy & Hernadez, 2009). Such individuals also tend not to be married nor live with a significant long-term partner (Ashman, Hulme, & Suttie, 1990). Instead, many live with and receive support from parents who quit jobs or retire early in order to care for their adult children (Lippold & Burns, 2009; Shooshtari, Naghipur, & Zhang, 2012). Recently, the Ontario government introduced its Passport program, enabling adults with developmental disabilities to participate in their communities by providing funding that can be used towards community supports and services. Some additional support is also available through the Ontario Disability Support Program. For the most part, however, this is where the responsibility of the state ends; additional services and supports for individuals with disabilities must be purchased privately or accessed through community agencies that receive funding through government grants and charitable support.
Participants with intellectual disabilities who are interested in joining the COC program must apply through Developmental Services Ontario (DSO), a government-funded umbrella organization that helps adults with developmental disabilities connect to services and supports in their communities. Eligible participants must be between the ages of 21 and 30; able to attend the program for a minimum of eight hours per week; have access to their own transportation to and from campus; and show an interest in taking part in the activities made available on campus. A small monthly user fee ($26.50/day) is charged to those who attend the program. The fee is typically paid through government funding such that the program entails no additional cost to participants. CLM pays the salary for the full-time staff member who is present on campus. This includes all soft costs such as benefits, parking, a cell phone, and training, as well as activity costs for participants (e.g. a graduation ceremony). The university provides in-kind contributions of office space, internet, and phone access. The Office of the Dean of Student Affairs is officially responsible for the university's involvement in this partnership.
How did it start?
In the 1990s, the Department of Psychology at UTM was approached by CLM with a request to host a joint program. This proposal was a natural extension of UTM's existing senior practicum seminar that places students in supervised social service agencies and other community settings and provides hands-on experience with theoretical and practical aspects of disability. CLM hosts student practica and also employs graduates of this and related programs. CLM staff are therefore very familiar with UTM, its programs and culture, as well as with faculty members who share common interests.
Like other universities, the University of Toronto is not a social service agency. Nevertheless, UTM is committed to human rights and academic freedom, and to ensuring diversity and equity through the implementation of anti-discrimination policies. With respect to disability, the university is committed to meeting the 2006 Accessibility for Ontarians with Disabilities Act (AODA) standards for a fully accessible Ontario by 2025 and has "AccessAbility" offices designed to meet the university's moral and legal obligations to provide a fair and level playing field for all faculty, staff, and students with disabilities.
But does this commitment also extend to individuals who have intellectual disabilities? A university is a community of public intellectuals in pursuit of higher knowledge and a broadening of critical thinking. Membership to this community depends on stringent academic admission requirements; given the diminished cognitive functioning among many people with intellectual disabilities, most do not meet these requirements and are not considered for admission to universities. Despite legislation in Canada and the U.S. mandating that organizations provide reasonable accommodation to individuals with disabilities (Barnett, Nicol, & Walker, 2012), admitting a student with an intellectual disability who has not demonstrated academic suitability does not fall under this requirement. Individuals with intellectual disabilities are therefore excluded from university admission at the outset. The goal of the COC program is to allow such individuals the opportunity to partake in some aspects of university life they otherwise would not have the opportunity to experience.
How does the university benefit?
Registered UTM students can volunteer with COC, allowing them to develop crucial employment, social, and interpersonal skills. By assisting others with intellectual disabilities for at least one hour per week during the semester, students internalize important values that will enable them to build a fairer and more inclusive society. Volunteers are drawn from a range of disciplines including psychology and the concurrent teacher education program, as well as management and science programs. Through an increased awareness of disability issues and meaningful interaction with participants in the COC program, these students may come to be future advocates and community organizers for more inclusive workplaces and other social settings.
The success of this program and the resulting trust that has developed between the organizations has led to other productive partnerships between UTM and CLM. These include guest speaker presentations provided by CLM for psychology classes, the opportunity for UTM students to engage in applied research at CLM, and joint meetings involving university faculty, staff, students, and professionals from the community. Such partnerships directly contribute to advancing the university's aim of research, teaching, and advocacy in ways that would not be possible without community partnerships. Indeed, student volunteers often turn to CLM in search of further volunteer or employment opportunities. This underscores the role played by the university in fostering a life-long sense of community involvement among future generations. For the agency, accessing educated and enthusiastic young adults with experience interacting with individuals with intellectual disabilities can be a tremendous asset.
What does success depend upon?
In order for such a program such as COC to be successful, the goals of both partner organizations must be met and the program must operate smoothly. Each department or unit must decide whether or not to take part in collaborative programs without pressure from the administration. Large universities are often able to provide office space but may otherwise remain uninvolved in the daily operations of the program. Ideally, the university will have strong student clubs and leadership as well as a firm commitment to student life and extra-curricular development opportunities for its students. A culture of on- and off-campus volunteerism and commitment to a vision of diversity and inclusion at all levels is a must. This is particularly important for new, incoming student volunteers and students who assume advocacy positions such as club presidents and group leaders.
The Association for Community Living must take full responsibility for the program. This includes hiring and training a coordinator who is present and always accessible at the university when participants are on site. The coordinator must be able to effectively train volunteers, build bridges with university staff in diverse units, and provide the support necessary for those units to take in program participants. The volunteers must feel valued by the coordinator as he or she provides effective supervision, problem solving support, and mentorship. Also important is ensuring that a good fit exists between the participant, the program, and the opportunities available on campus. For example, if a participant is interested in auditing classes but becomes disruptive to the rest of the class, the participant should be placed in a different activity on campus.
The program must remain cost effective. Because the program involves a team of volunteers, CLM is able to provide service to a greater number of individuals than it typically can in other support programs with the same budget. The volunteer experience must therefore be a convenient fit for student volunteers. With an on-campus program, students are already on site for classes and do not need to devote extra time for travel. The university is therefore a great source of volunteers who are able to commit a few hours every week to the program. It is thus important that organizations are flexible in the timing of their own programs and make efforts to coordinate participant programs with university class schedules.
Although not always amenable to change, universities situated on small- to mid-size campuses can be more conducive to establishing the close-knit culture necessary to fulfill a vision of inclusion. More compact campuses translate into easier accessibility to and from program sites, making the weekly commitment more achievable. Also more likely in this setting is the probability of participants bumping into a familiar face from the gym or the library as they pass through the hallways, contributing to an even greater sense of inclusion and welcoming.
Crucial to the success of any collaborative program is the role played by volunteers. Without student volunteers stepping forward, both at agencies and on campus,
programs such as the COC simply would not exist. Collaborative and participatory alliances between agencies and academia, such as inviting local organizations to university tabling events and fairs, is vital to recruitment efforts on the part of agencies and a tremendous stepping stone for securing the volunteers needed to make these programs possible (see Figure 1).
Most importantly, however, the experience must be a meaningful and fulfilling one for all those involved. For example, COC volunteers often speak of the personal growth and transformation they experience from their interactions in the program and the friendships they develop with program participants. In turn, participants with intellectual disabilities speak about the great gains they make in their confidence and social skills, and the long-lasting connections they make with university students.
How can the program be improved?
Although a tremendous success to date, there are always areas for improvement within any collaboration. First, providing graduating participants with an official university certificate of completion would serve to acknowledge their involvement in the program and their achievement as active members of the university community. If participants have volunteered or contributed unpaid labor to the university, this contribution should also be acknowledged. Second, although not always plausible, providing the possibility of employment at the university for graduates of the COC program would be ideal. This would serve to maintain their connection with the university and better prepare them for possible future employment opportunities. Third, including preliminary training for the program would allow volunteers to be more effective in their positions.
Conclusion
Traditional forms of post-secondary education have typically been opaque to people with intellectual disabilities and the challenge of broader accessibility has yet to be overcome. Encouragingly, the University of Toronto continues to invest in increasing inclusion, challenging cultural conventions, and directly fostering social change. The collaboration between CLM and the UTM is novel in that it provides a space for individuals with intellectual disabilities to partake in an experience that would have otherwise been beyond their reach. From the perspective of both university students and COC participants, these experiences allow them to learn about one another while learning together. This spirit of inclusion in education holds great promise and is given a significant place in the University of Toronto. In our view, the inclusion of individuals with intellectual disabilities into the university community enriches the campus in many new and important ways.
In her book about the rise of world hyperpowers, Yale law school professor Amy Chua (2007) argues that the creative power of a culture is closely associated with its tolerance for its subcultures and its assimilation of multiple perspectives. The partnership described in this chapter underscores Chua's vision and highlights the complex interdependence between academia and the wider community. Indeed, in his installation address, University of Toronto President Meric Gertler, stressed that:
We need to identify our most successful examples of community outreach and partnership, and scale them up to generate more opportunities for our students and faculty, and more benefit to our local partners… [the University of Toronto will] seek new opportunities to open up our campuses to the city around us, using our physical spaces to convene public discussions of the most pressing and compelling urban issues of the day.
President Gertler calls attention to the responsibility of academic institutions to design and implement programs that take learning outside the ivory tower and into the real world. By engaging students and community partners in mutually beneficial ways, universities expand their teaching and research missions to new and relevant domains. It is now widely accepted that the role of the public intellectual is to move beyond the educational institution and find ways to become more involved with larger social, political, and moral issues (Tierney, 2013). Programs like COC are in line with the social responsibilities of organizations to make contributions to society through decisions and activities that impact on the social welfare of its citizens (International Organization for Standardization, 2011). The challenge for any institution is not simply to illuminate the lived experiences of others but to do so in ways that diminish racial, ethnic, religious, gender, class, ability, and other boundaries.
Can the benefits of other university-agency partnerships flourish? Whether and how such collaborations can make their way into other academic institutions remains to be determined. At the macro level, it is important that educational institutions continue to strive to enhance equity for people with intellectual disabilities and explore novel strategies that promote friendships and other social relationships for people with disabilities in a variety of contexts, including the university setting. This chapter offers a point of entry for others to follow by detailing how the COC program enriches the university as a whole through the special ways in which it inspires new and inventive ranges of inclusion. AM
---
Stuart Kamenetsky is the Undergraduate Director of Department of Psychology at the University of Toronto Mississauga. Christina Dimakos is currently pursuing a master's degree in community psychology at Wilfrid Laurier University.
---
ACKNOWLEDGMENT
We would like extend our sincere appreciation to the Community Living Mississauga staff for their continued partnership with the Community on Campus program and for their important contributions to this article.
---
*  For references, please go to the web version of this article at
www.academicmatters.ca