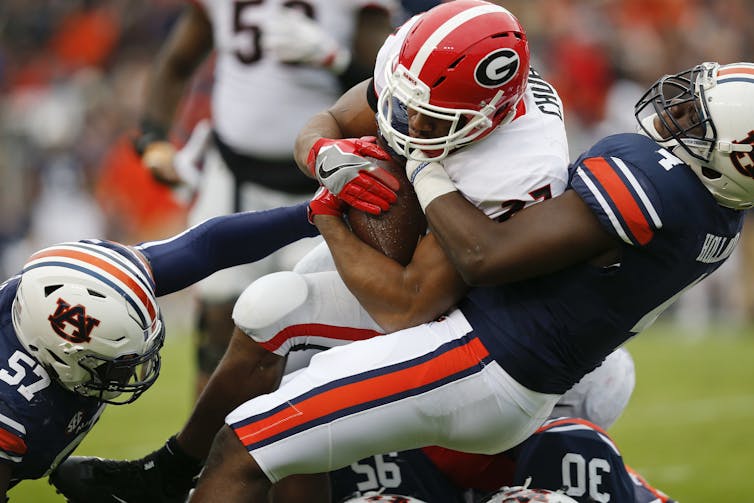 If you go strictly by the official account, heatstroke was the cause of death for University of Maryland football player Jordan McNair. McNair died earlier this year following a grueling practice in which training staff failed to properly diagnose and treat his condition.
But there's another culprit – or at least a contributing factor – that should not be overlooked.
As I argue in my forthcoming book – "From Exploitation Back to Empowerment: Black Male Holistic (Under) Development Through Sport and (Mis) Education" – what threatens black college athletes such as McNair is not just the brutal treatment to which they are subjected on the field.
Rather, it is a long-standing and deadly stereotype in American society that views black males as subhuman and superhuman all at once.
This stereotype, which is complex and has many layers, holds that black male athletes have superior athletic abilities that enable them to excel at high levels in sports such as football. The stereotype also holds that black males have a distinct physicality that allows them to endure extreme amounts of pain.
This is the same myth that was used to justify the enslavement and mistreatment of black people in America from before the Civil War through today's era of mass incarceration. In fact, a case can be made that there are many parallels between the exploitation of black student-athletes today and how black labor was exploited during American slavery.
McNair also appears to have fallen victim to a sports culture in the U.S. that promotes a win-at-all-costs mentality. This culture also places an inordinate amount of emphasis on generating revenue. And it represents a damaging view of masculinity.
I make these arguments as a scholar who focuses on the nexus between sport, education, race and culture.
Perceptions of black strength
I assert that black males in general, and black student-athletes in particular, are viewed primarily as physical beings – sometimes seen as "beasts" and the like. This dehumanizes them in ways that threaten their well-being.
Although such terms as "beasts" are widely embraced in mainstream culture and in some instances by black athletes themselves, such as Marshawn Lynch, whose "Beast Mode" clothing line is drawn from his nickname, these terms are still harmful. This is especially the case in sports, where masculinity is equated with toughness, playing through pain and not giving up.
It may be true that these ideas are applied to male athletes in general. But these views impact black males even more due to their unique experiences in the United States. Just as they did during the days of chattel slavery, I argue that deeply embedded stereotypes about the physical capacity of black individuals to endure pain results in their perpetual mistreatment in the sports arena.
The stereotypes about black males' work ethic in sports like football and basketball has resulted in their higher incidences of cardiac deaths.
Not valued for intellect
Black student-athletes are also subject to educational neglect. Consider, for instance, the various academic scandals in big-time college sports. Some of these scandals involved cases in which black male athletes were found to be illiterate, but still allowed to compete in their respective sports and generate millions of dollars for the institutions.
Black males are often deemed as intellectually inferior and morally deficient. For example, black males are disproportionately more likely to be enrolled in special education courses versus gifted courses in the K-12 education system. They are also less likely than their white peers to have their race and gender associated with being intelligent or academic achievement.
For black male athletes, the dumb jock stereotype is commonplace and reinforced by the fact that they are more likely to be admitted to college academically underprepared, more likely to be enrolled in perceived "easy" or less rigorous courses so that they can remain eligible to play sports, and less likely to graduate compared to their peers.
Despite this academic neglect, black males continue to constitute a majority of the participants on football and men's basketball teams, 55 and 56 percent, respectively, in big-time college sports. This highlights how they are more valued for their athletic abilities than for their academic promise.
This is what enables sports organizers and coaches to present college sports to black males as a viable way to make it in society.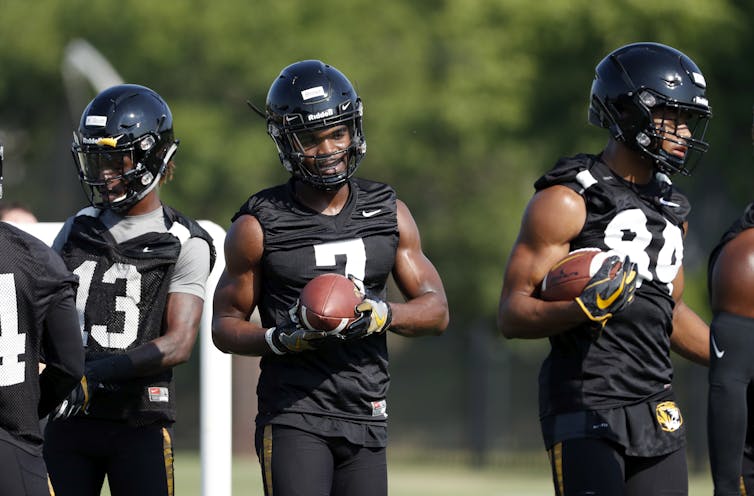 The view of black males as super-human is present in arenas other than sports. It lurks behind many of the police killings of black men of late. This was highlighted in the infamous police killing of Michael Brown in Ferguson, Missouri, in 2014, when police officer Darren Wilson described the 18-year-old Brown as a "demon" and "Hulk Hogan"-like.
Beyond the glitz and glamour
This type of pathological labeling applies in football. Black males' physicality is exploited. For example, at the University of Alabama, where head coach Nick Saban is paid US$11.1 million per year, black males represent 80 percent of the starters on the team. Yet, not only are black male student-athletes not equitably compensated based on market value for their athletic abilities, they also graduate at a lower rate – 59 percent – compared to 71 percent for their athlete peers and 67 percent for the general student body. Thus, they are simultaneously academically underserved and athletically exploited in terms of economic compensation.
With both stereotypes – subhuman and superhuman – in play, black males within sport and beyond are systematically dehumanized and consequently deprived of the love, care and attention that should come with their humanity.
The large amounts of money being generated in college football, along with the increased commercialization and celebrity flair associated with the sport, creates an illusion of fun, American grit and a unique brand of entertainment.
But behind all the glitz and glamour are factors that contribute to the exploitation of athletes. These factors also result in undetected or undeserved – and entirely preventable – long-term health problems such as depression and high blood pressure, and in some instances, deaths.
The need for reform
In terms of medical coverage, colleges are not required to assist college athletes beyond their athletic eligibility years even though injuries they suffer in college can affect them for the rest of their lives.
Over the past several decades, organizations such as the National College Players' Association have advocated for increased medical coverage and protections for college athletes. The founder of the NCPA, former UCLA player Ramogi Huma, established the advocacy group after he discovered that the NCAA prevented UCLA from paying medical expenses from injuries that occurred during summer workouts.
University of Maryland President Wallace Loh recently stated that the university had accepted "legal and moral" responsibility in the death of Maryland football player Jordan McNair. That's a step in the right direction.
An acceptance of responsibility is not enough, though. Serious systemic reform and a change in culture is needed. These changes must address racism and racist stereotypes that lead to mistreatment of black athletes.
U.S. society must also confront its unhealthy obsession with sports glory, commercialism and overall neglect of athletes' rights and well-being.
One important reform that should be adopted immediately to benefit all college athletes is to require all medical staff for teams be independent from coaches' and athletic department authority. This was something reportedly proposed and rejected at the University of Maryland.
There should also be an advocacy group separate from the NCAA to help college athletes negotiate with the colleges they attend for improved working conditions related to safety and their overall well-being. This includes an improved academic experience, mental health support, and help with making the transition to their life after sports.

Joseph Cooper, Assistant Professor of Educational Leadership, University of Connecticut
This article was originally published on The Conversation. Read the original article.