The difference in average GCSE English and maths results between poorer and richer pupils – the so-called "attainment gap" – is the largest in England in over a decade, according to a recent government analysis.
Reducing this gap is something politicians have struggled with for decades.
But education professionals do know of one way to reduce it, which was made clear from the last few years of exam results. When end-of-year exams were replaced with teacher assessment during the first year of the COVID pandemic in 2020, there was a small but real closing of the gap.
In 2021, when teacher assessment was also used, the attainment gap widened from 2020 and was higher than in 2019 – but this may reflect the many further barriers the pandemic added to disadvantaged students' attainment.
By 2021, most students had had two years of disruption, and for those with fewer resources to help them cope during the pandemic, the disadvantage rose exponentially. In other words, the less well-off students were falling further and further behind.
In Scotland's Higher results, the difference between teacher-assessed grades and exam results is more stark. The percentage point gap between the number of pupils from the most affluent and the most deprived areas gaining A, B and C grades in their Highers was 16.9% in 2019.
When teacher assessment was used, the gap fell to 6.4% in 2020 and 7.9% in 2021. In 2023, the gap is back up to 16%. A similar pattern is seen in A to C grades for Scotland's National 5 qualifications.
The difference between Scotland and England may be explained by differences in their exam cultures. In Scotland there is far less emphasis on standardised testing through different levels of education, and so students are likely to have had more experience of alternative forms of assessment to exams. They were therefore better placed to respond when exams were cancelled.
In other words, even when faced with multiple forms of disadvantage during the pandemic, less well-off young people were able to better demonstrate their learning using alternative forms of assessment.
Return to exams
Nevertheless, the government in England has pushed ahead with a return to exams and ensuring pre-pandemic levels of student achievement. This is down to a belief that "exams remain the fairest and best form of assessment". Exams are back in Scotland, too, though with post-COVID modifications remaining as to how they were graded in 2023.
There is no evidence that the pandemic approach to assessment was less robust. It simply produced a different profile of results. The assertion that such results are less valid is made purely based on the unevidenced belief in exam fairness that governments cling to.
The problem is that there can be no doubt that better-off pupils are more likely to do well in exams. They are more likely to have a quiet space and resources for revision. They may have more time to revise if they don't have to work a part-time job as well as study.
Their parents may be able to afford tutoring for them. For students who do not have these resources, their achievements in the classroom over a period of study, as seen by their teachers, are likely to be a much better representation of their knowledge and skills.
The most vulnerable and disadvantaged students continue to fall further behind their more well-off peers. This is an urgent educational and social justice issue because GCSE results predict future possibilities and social and economic success.
A fairer system?
Exams are often considered fair because they are anonymous. It has been argued that teacher-assessed grades further disadvantaged vulnerable students during the pandemic because teachers mark with unconscious biases that privilege the work of students with university-educated parents.
This evidence, however, is contested. Other research has argued that there is no evidence for teacher bias in the 2020 assessment process that replaced exams.
What's more, research on anonymous assessment has suggested that the marker can still impute an identity onto the exam script's author. In doing so, they may bring with them any unconscious bias they have.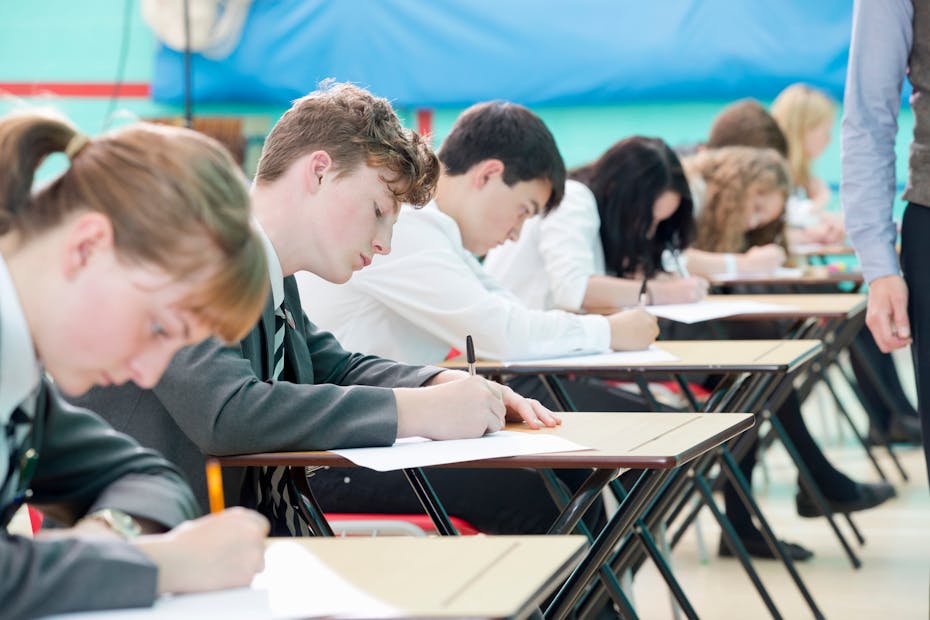 Also, despite protestations to the opposite, our GCSE and A-level assessments rely on norm-based assumptions. In a norm-based system there is an assumption that a certain number of students will get an A, a certain number fail and so on.
We know that this thinking underpins the management of GCSEs from the government's own statements that results should return to a pre-pandemic "norm".
Norm-based assessment is unjust on many levels, not least because it undermines standards of achievement and it makes education a competition in which there are necessarily winners and losers. How can we ever narrow an achievement gap when we insist on set proportions of our students passing and failing?
And exams themselves are a flawed measure of knowledge. They only assess one way of demonstrating engagement with knowledge: memorisation under pressure. Naturally, therefore, those better skilled in this single form of engagement with knowledge will always do better.
The essential point is that such a critical moment of evaluating student success should not be down to a single form of assessment. Nor is a single form of assessment likely to be the most appropriate for the whole range of GCSE subjects.
Without a diverse system of assessment that recognises different student strengths and different disciplinary requirements we cannot possibly address the attainment gap. And if we are to hold exams at this most crucial stage in our young people's lives, then we need a better reason than this one of alleged fairness.
There is no stark choice between exams and teacher-based assessment. There are many different ways of evaluating student learning and of recording or grading student achievement that could be used together. If governments were serious about the attainment gap, they would explore alternatives to exams.

Jan McArthur, Head of Department and Senior Lecturer in Education and Social Justice, Lancaster University
This article is republished from The Conversation under a Creative Commons license. Read the original article.