Out of sight, out of mind? 
There is no shortage of discussion or research about getting students into university and college. Surprisingly, we seem less interested in their lives after graduation. While alumni offices do some tracking of grads for donations or homecoming, this is not usually something that individual departments take much interest in. Our focus as professors is primarily on how to serve the students in our classes, and less on their post-graduation experience. But what if we paid more attention to the lives of our graduates beyond the university?
This is the story one department's attempt to bring the post-graduation picture into better focus through research on graduates – and the discovery that tracking them has much to teach us about curriculum development and engaging new students.
As a small, relatively new interdisciplinary program in social justice, we regularly revisit our pedagogical approach and course offerings. At times we have involved senior students in these discussions since, having been through all of our core courses, they offer a unique perspective on potential overlaps and gaps. As our alumni entered other spheres, we benefited from hearing how some of them translated the degree into meaningful work, and learning about the challenges they faced. The idea emerged that gathering these alumni stories together could provide a useful point of reference to inform program development. With a better sense of our graduates' paths, we could help current students feel better prepared to apply what they had learned in a chosen field.
Reconnecting with our Grads
Last summer, we worked in conjunction with the Registrar and Alumni offices to establish a list of our graduates, and then to find them, working within the bounds of the university's privacy policy. We contacted alumni using a variety of social networking tools and requested some basic information on what they did during and after the degree (Cushing, 2012) "Co-Articulating the Value of a Liberal Arts Degree with Alumni" in College & University Journal of AACRO[PC1] , April 2012: 39-44). We connected with over 80% of graduates relatively quickly and over 90 completed their profile within five months. Several alumni included thoughtful, constructive suggestions for the program along with their diverse and surprisingly creative stories. We are combining those insights with the profile analysis to discern how to use the findings to inform our approach.
Results – The Wide Open World
There are three general patterns that we found across the graduates' profiles: high levels of further education; significant involvement in international projects; and career paths spanning a wide variety of fields in all three sectors. 
Eighty per cent of our graduate respondents are pursuing further education of some sort, from which roughly a third are doing another Bachelor level degree or a certificate program (often education, social work or non-profit related). The single-most popular choice for further education is in law, with a dozen grads in, or finished, legal studies. Most felt that studying law was essential to better understand and ameliorate the local and international injustices that they had learned about in their B.A. Graduate school is another popular destination; 40% of respondents are in or have completed graduate programs in Canada and abroad (30% M.A. and 10% PhD/MD) in a wide range of disciplines.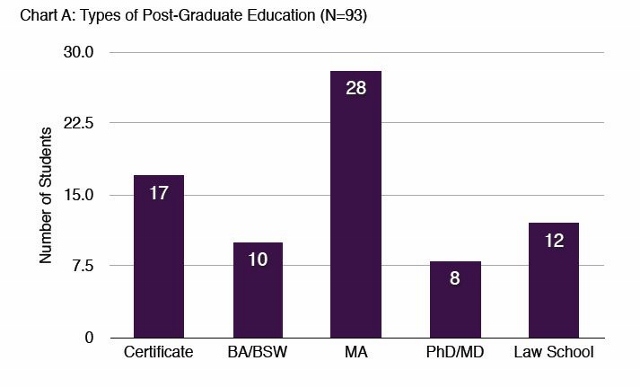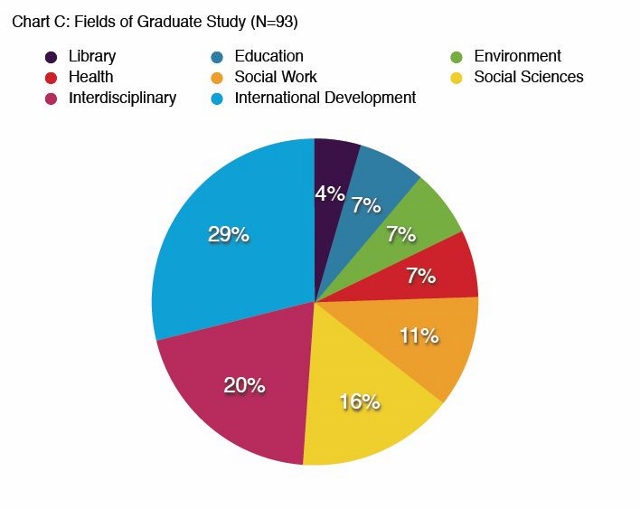 A second pattern was a high level of ongoing engagement in international issues. Almost half of respondents undertook international experiences post-graduation including paid work, doing a degree or fieldwork, internships, teaching abroad, and volunteering. This finding was consistent with the strong program emphasis on international, experience-based courses in our program.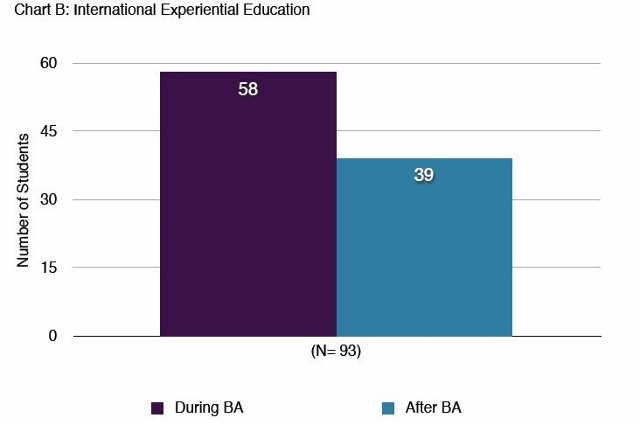 In terms of actual employment, we found that our graduates are split roughly equally across the governmental, non-profit and private sectors. Government sector positions are highly concentrated in education and social work. Their non-profit sector engagements were more varied with graduates working in anti-poverty, disability, AIDS, social justice within the church, child welfare, and international development. Private sector roles ranged from ethical investing and eco-entrepreneurship to retail sales and banking. A few alumni are parents and they discuss the challenge of passing on empathy and compassion to their kids.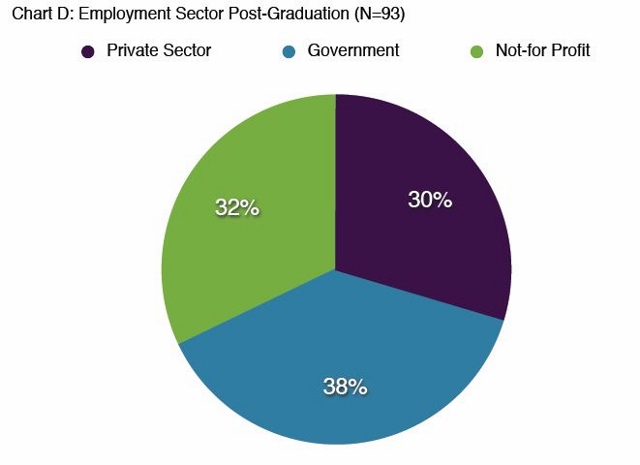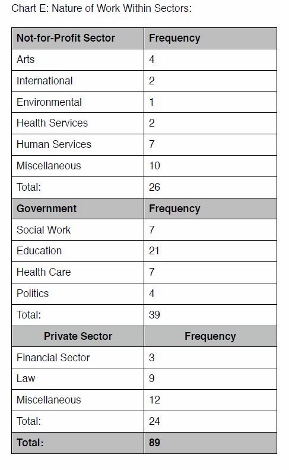 From Results to Reforms
The variety of alumni stories reveals the unpredictability of people's paths as they connect their studies with their post-university working lives. The next phase of our project is to look at how the diverse and sometimes divergent findings of this research can be woven back into our program planning. There are four core areas that can be informed by this research: curriculum, pedagogy, student supports and research. These ideas are still in development, as a great deal of discussion at the program level is needed.
Curriculum Development
Our graduates reported that various graduate programs require Economics or Statistics prerequisites. As a program, we neither offered nor recommended such courses, and this posed a barrier for some alumni. Our grads also indicated satisfaction with their general knowledge of social justice issues but some felt they lacked an in-depth understanding of a particular area that could help them find meaningful work or study opportunities sooner.
Interestingly, students with co-majors in a traditional discipline or those who had pursued a specialized independent study course were slightly less concerned about this issue.
Based on this feedback, we can adjust our curriculum in several ways. We can address foundational areas of alumni interest such as law in our core courses. Further, the themes of our elective courses could be revisited to ensure they address both what faculty consider to be important and what students find useful in the post-graduation world. The findings also suggest possible inter-departmental collaborations such as co-developing justice-focused courses with Social Work, Education or basic level Economics or Statistics options for those students who are interested in fields that might require this background.
We have a few options to provide more in-depth and skill-based learning. We can use our existing electives and cross-listed courses to develop areas of thematic concentration or optional streams. We could also create a senior thesis option with clear requirements and supervision for students whose particular field is not otherwise addressed in existing university offerings. We can develop workshops that support development of specific social action skills and a course that could analyse and contextualize their use historically. The skills could include:lobbying, policy reform, community organizing, conflict negotiation, non-violence, protest, and so forth.  Now that we know better what students need, we have a clearer sense of possible developments.
Pedagogical Considerations
We now know that community action and activism are popular during the program, but that social action post-graduation tends to decline. We have also learned that internships are an important way for students to find employment in their field of interest. It appears that most students who have taken one of our international experiential education courses report educational benefits and a sustained commitment to justice, while others noted that the benefits of international courses are inaccessible for some due to financial costs, chronic health conditions or family responsibilities.
With these insights in mind, there are several ways we can strengthen the connection between academics, social action, and success in the job market. It can be difficult to sustain an activist stance once outside of your supportive, like-minded university community. While these are ultimately personal choices, we can provide students with more post-graduation tools. The course in social action suggested above could help students learn effective tools consistent with the university's role to study and critique issues. Greater engagement with local organizations could heighten the opportunity to build sustainable activism relationships for all students, not just those who study abroad.
Many of our students initiated local projects, like reducing racist materials in one First Nations' school library, creating a nascent local organic produce cooperative, or building homes for people with disabilities. There is rich potential for greater local engagement to translate into concrete change and foster bonds between students and organizations that may result in longer-term commitments.
Finding a forum to share alumni profiles could show how many graduates have sustained social action in everyday life, through community organizing, research, or working within the system. One graduate began with years of grassroots community organizing around inter-ethnic violence, studied it in his Master's, and is now working on general ethnic relations within the formal political system. An independent course on local poverty issues and a volunteer position with a local AIDS organization has led to six years of related graduate study for another graduate.
Student Supports
The profiles suggest a wide variety of extra-curricular mechanisms to support student learning and growth. Although some would require additional resources, it is useful to consider options and priorities in discussion with students and alumni. While a degree is not narrowly about 'job skills training,' people do need to earn a living post-graduation and could thus benefit from complimentary forms of vocational assistance outside the liberal arts classroom. A few options include:
Discernment & Role Modeling: Set up forums or individual sessions with students to consider their options and think through what it might take to get closer to those dreams. This could mean sharing alumni profiles, creating mentoring links with people in a variety of key fields, and inviting alumni or key third sector actors to share how they got into their field at a symposium or virtual forum.
Connect & Inform: Create a forum for knowledgeable insiders from non-profits, NGO's, government and other justice-related organizations to discuss their organizations' focus, changes and needs.
Communication workshops: Work in conjunction with the university writing center to develop interactive sessions to develop skills in areas most salient to justice work (e.g.: lobbying, rally speeches, policy research / change, grant writing).
 Research
Research on graduates can teach us a lot, but we can also broaden who is involved to further enhance our knowledge. For instance, the Registrar's office is open to collaborating on the development of the web-based alumni profiles mentioned above since this could also be of use to them in their high school recruitment efforts. The profiles were featured in an Alumni magazine piece last summer. Alumni and Communications have offered to co-create a platform for our grads to share their work with others at alumni events. They are open to supporting the project by sharing their database software to organize and protect profiles according to the university's privacy policy. With permission, this analysis could also be shared with the counselors in the Academic Dean's office who are intimately involved in helping students discern their program of study. We can also use the e-network that has been generated to check back in with graduates for comments on particular program questions, concerns, or changes.
Residual Questions & Conclusions: Where to from here?
Our research results hint at various ways forward. There are still unanswered questions.
 How often and for how long do we want to track and report back to graduates? Who should own the project and set goals for using the findings within the bounds of confidentiality guidelines? Is there a need to revisit our sampling (e.g. broaden scope) and methods (e.g. anonymity options)?
We must grapple with these questions, and with how the findings can influence our program. Our research makes clear that there is no single, common path that our graduates follow. Liberal arts graduates embody a creative flexibility that draws on their volunteer and course work, personal and course-based  relationships and exposure to opportunities. As faculty who believe in the value of a liberal arts education, we want to think through these matters with all stakeholders to better support students to translate their education into meaningful lives beyond the university.   
References
Cushing, P. (2012). Co-Articulating the Value of a Liberal Arts Degree with Alumni. College & University Journal of AACRO, April 2012, 39-44
Photo by Helgi Halldórsson/Freddi on Flickr