The COVID-19 pandemic has put incredible strain on healthcare systems around the world. In Ontario, healthcare workers are in high demand. However, nursing students are now faced with the reality that, even before they graduate, they may need to put their own health at risk.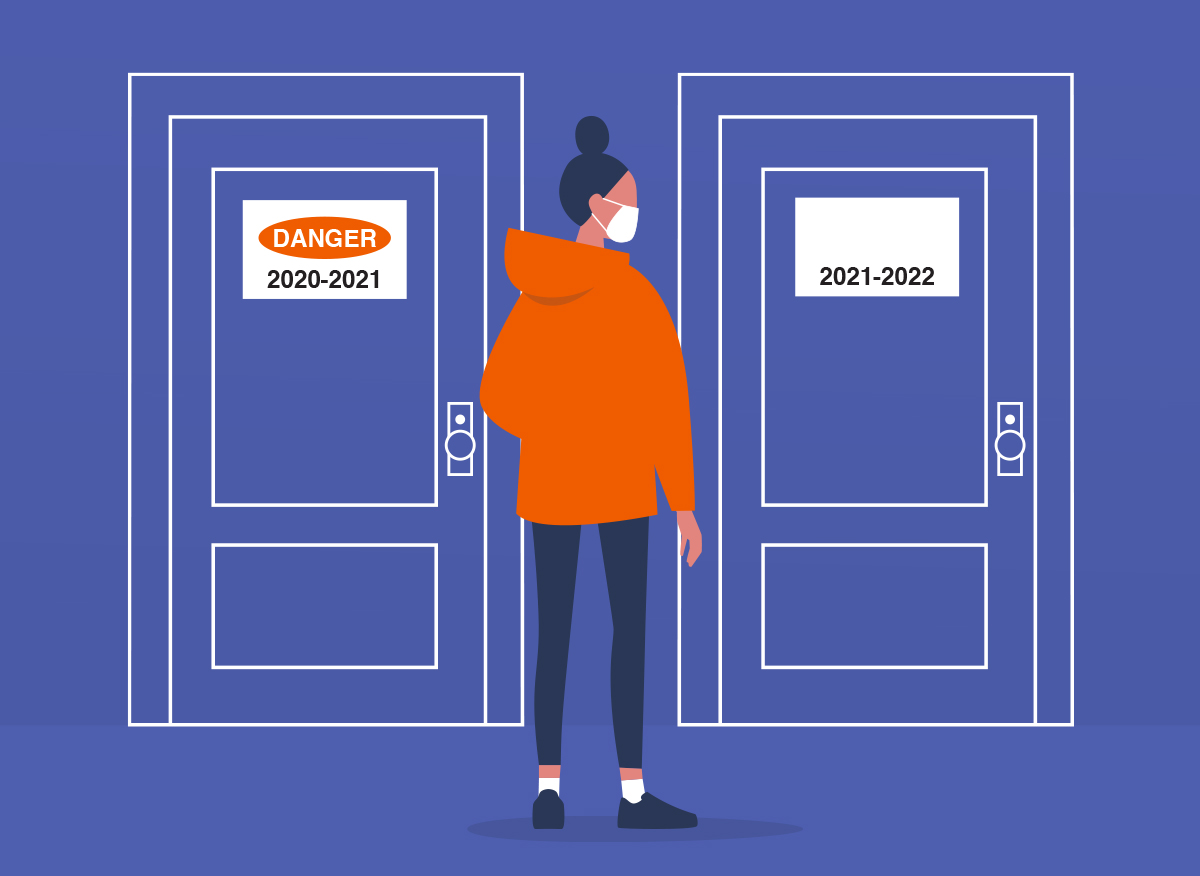 While healthcare workers are on the frontlines of the COVID-19 pandemic, nursing students find themselves having to make some tough decisions. To earn their degrees, future nurses are required to take placements in hospitals and community health centres—current hot spots for COVID-19. Given this reality, some students are considering the implications of putting their own health at risk to complete their degrees or whether to stay safe and potentially wait another year to graduate.
"Transitioning to online school has been difficult, especially as a nursing student, because the majority of our classes can't be taught online," Selena Ki says. Selena is in her last year of nursing at Ryerson University. "A lot of my peers agree that we feel like our skills are lacking because we don't have access to the resources we usually have—like our skill labs or patient simulations in person."
With the transition to online classes already putting strain on postsecondary students, the additional anxiety of being asked to work on the front lines of the pandemic in a hospital or community health centre has created more stress.
"Clinical [work] is a lot harder this year than other years," Ki adds. "A lot of facilities aren't taking students because of COVID related closures/risks. The ones that are taking students are understaffed."
With placement hours required to complete their degrees, nursing students are put in a tough position. As Ki states, "we've been told that if we want to graduate this year, we have to attend placement and, by attending placement, we are accepting the risks associated with COVID-19."
She says that nursing students are feeling pressured by faculty members, departments, and hospitals and clinics offering placements to take what is available, no matter how unsafe they feel. Students who are immuno-compromised feel additional anxiety.
"The nursing faculty at Ryerson University has told us that 'there is no way to avoid exposure from COVID-19 during this time,'" Ki says. She worries that students doing placements are not just putting themselves at risk, but the family members who they continue to live with.
This is concerning for students, not just because of the potential that they may become sick, but due to the concerns they have about getting sick and transmitting the virus to their patients or family members.
Recently, there was an outbreak of COVID-19 at Windsor Regional Hospital, with five students contracting the virus. Although the virus was contracted outside of the hospital, it was the students who ended up putting vulnerable hospital patients at risk.
Many students still living at home are also concerned about getting sick and passing on the virus to family members, some of whom may be older or at higher risk.
Another stress point for nursing students is the lack of compensation they receive for their labour. They are expected to work in healthcare facilities without compensation and may be working other jobs to pay for expenses in addition to school, including paying for food, rent, or supporting their families, as is the case for many first-generation students with immigrant parents. Students who don't qualify for OSAP, but cannot afford to pay for school up front, may have difficulty staying in their program, a problem that predates COVID-19, but has been exacerbated by the pandemic.
"We're working for free, providing care for COVID suspected patients during a pandemic," Ki says.
Students currently in their final year at Ryerson who are not able to complete their clinical work have no choice but to defer their year entirely and not graduate this year.
Melanie Holjak, a preceptor for nursing students in the Haldimand-Norfolk Health Unit and local coordinator for the Ontario Nurses Association, says that students have not been accepted at her location.
"We have experienced a decrease in nursing students within our public health unit since the start of the pandemic. In fact, we have had none this year. Nursing students would be a tremendous asset in public health right now, as they could assist with ongoing workload issues and would gain experience with outbreak management," says Holjak.
The main concern for nurses are the cuts the Ford government has made to healthcare funding during a pandemic.
"The government can protect and support health care workers by adequately funding all health care sectors, including public health, hospitals, and community [health centres]," said Holjak. "In public health, there have been zero increases to base funding for mandatory programs and services and, earlier this year, we experienced changes to the funding model which resulted in decreased funding to public health."
In the end, both registered nurses and nursing students are asking for the same thing: more support.
In the end, both registered nurses and nursing students are asking for the same thing: more support.
Healthcare workers are the backbone of the province's healthcare system. They play a central role testing and treating those affected by COVID-19 and need to feel both heard and supported. That means more funding for the healthcare system so that nurses have access to required personal protective equipment, mental health services, and so that hospitals and community health centres have enough staff to reduce the immense workloads nurses are currently facing. And that will require qualified nurses graduating this year.
Chantelle Cruzat-Whervin served as an associate editor and journalist at Academic Matters during her internship as a fourth-year student in the Ryerson University School of Journalism.
This article was initially published online in November 2020 and was republished in the Spring 2021 print issue.