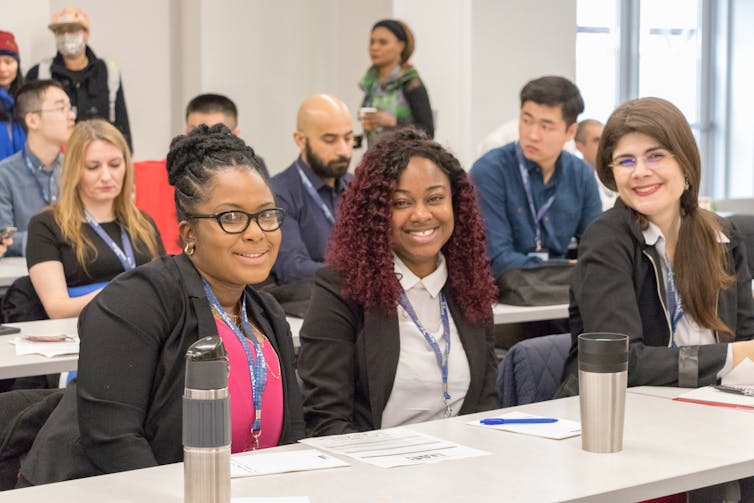 Anita faced a tough choice when she discovered she was unexpectedly pregnant.
If she took a term off school to care for her newborn, her family would lose its dream of settling in Canada. So, eight weeks after the summer birth, with her diplomat husband away on a long-term work assignment in the Caribbean and two more children at home, the international student from Cameroon returned to class full-time.
"I couldn't understand why they would say no," Anita said of Ottawa's refusal to extend her student status to cover her maternity leave. "I wasn't taking any money from government. It wouldn't cost them anything. Why? Why would they say no?
"I cried every day. It was so hard. I cried and cried and cried. But I had to go back."
Federal Immigration Minister Ahmed Hussen has repeatedly urged international students to stay in Canada, and the governments of all four provinces in Atlantic Canada have created special pathways to help international students transition to permanent resident status.
---


Read more:
Newcomers find jobs, prosperity in Atlantic Canada — if they stay


---
But only 11 per cent of the students who graduate from Atlantic Canada universities and colleges are still in the province of their study one year after they become permanent residents, according to research, as yet unpublished, by Prof. Michael Haan of the University of Western Ontario.
Students fear breaking the law
A new survey shows that a fear of running afoul of Canada's complex immigration laws is one factor driving students to leave the country after graduation.
The International Student Barometer is the largest survey of students in the world. More than 2,000 international students in Atlantic Canada were included in the latest survey, released March 1, 2018.
It is Nannette Ripmeester's job to explain the results of the survey to governments, associations and institutions around the world. The biggest problems in Atlantic Canada, she says, are unrealistic expectations and false perceptions.
For example, four in 10 international students say they might leave Atlantic Canada after graduation because there is no suitable job in their career. However, research shows that immigrants to Atlantic Canada actually fare better than immigrants to other regions.
A particularly troubling insight from the survey, said Ripmeester, was that one in four international students in Atlantic Canada said they might leave the region after graduation because of work permit or visa restrictions.
"Students come here because they want a job and they leave because they think there are no jobs available and there is difficulty with visas," said Ripmeester. "But that is all not true."
The stakes could not be higher.
Universities rely on international students
More than 25,000 students currently hold permits to study in Atlantic Canada. They are keeping universities afloat as domestic enrolment plummets; they are a major part of the regional economy and they are a prime source of the immigration needed to counter the region's rapidly aging population.
Atlantic universities have become deeply dependent on international students. Enrolment from Canadian students dropped 10 per cent in the last 10 years, and the proportion of university spaces taken by international students has doubled. Some universities, like Saint Mary's and the University College of Cape Breton, now draw almost a third of their students from outside Canada.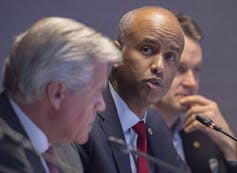 According to research released this winter, international students contribute $795 million a year to the economy of Atlantic Canada. The study, conducted for the Council of Atlantic Ministers of Education and Training, found that international students are responsible for 6,731 jobs in the region and contribute $22 million annually in taxes.
A 2017 report commissioned by the Council of Nova Scotia University Presidents estimates that in-province spending by international students is Nova Scotia's fourth-largest export: Smaller than the seafood industry, but larger than forestry.
Canada has one of the easiest immigration paths for students in the world, yet the survey found that international students in Atlantic Canada have the same level of anxiety around work permits and visas as international students in Europe and the United States, where it is almost impossible to stay after graduation.
Anita asked that her real name not be published because she's currently applying for permanent resident status. She fears that publicly discussing her story might affect her file.
She was caught by a rule that says students must be engaged in continuous full-time study to be eligible for a post-graduation work permit.
It would have been very difficult for her to understand the immigration consequences of pregnancy in advance. Until last year, campus immigration advisers routinely advised students that they could take a term off for illness, pregnancy or family emergencies as long as their school reported them to Immigration, Refugees and Citizenship Canada (IRCC) as on "authorized leave." That was wrong.
Eligibility lost
In fact, students lose their eligibility for a work permit after graduation even if they leave school for cancer treatment, to care for a dying relative — or to give birth to a baby.
When Canada introduced the Express Entry system three years ago, many students who had been planning their immigration for years suddenly lost their path. The program used most often by students was shut down, and most students didn't have enough points to be chosen out of the Express Entry pool of candidates.
Ottawa revised the point system in November 2016 to make it easier for students to become permanent residents through Express Entry, but students must be very knowledgeable and very careful to make sure they will qualify.
For example, hundreds of international students were caught by a rule change that decreed graduates of private colleges are not eligible for the crucial post-graduation work permit. That change was not clear on IRCC's website and even immigration lawyers and consultants sometimes missed it when advising clients.
Then there are students who take a job hoping to accumulate the one year of Canadian employment experience needed for Express Entry only to discover too late that working as a bank teller, a food server or a receptionist won't qualify them for the fast-track immigration program. An applicant, in fact, needs experience as a manager, a professional or in a job that the government considers skilled.
They are small stories that represent big problems for students, their institutions and the local economy.
IRCC has recognized the confusion. Last year it set up a system to improve service and communication. And in early 2018, the government revamped its website so that students can clearly see whether attending a specific school in Canada will qualify them for a post-graduation work permit.
Haan, of the University of Western Ontario, found that international students were less likely to settle in Atlantic Canada than other regions, but he also found that retention varies widely by citizenship.
Chinese students are the least likely to stay, which is bad news for Atlantic Canada since Chinese students make up more than a third of the international students in this region.
Anita's not leaving Charlottetown. She says life would be easier for her in Montreal, where most people speak her mother tongue, but her children are happy in Prince Edwards Island and all her neighbours look out for each other. She won't give that up.
---

This article derives from The People Imperative. Kelly Toughill researched and wrote the report for the Public Policy Forum, which is conducting a three-year project on Atlantic immigration and revitalization.
Kelly Toughill, Associate Professor, University of King's College
This article was originally published on The Conversation. Read the original article.