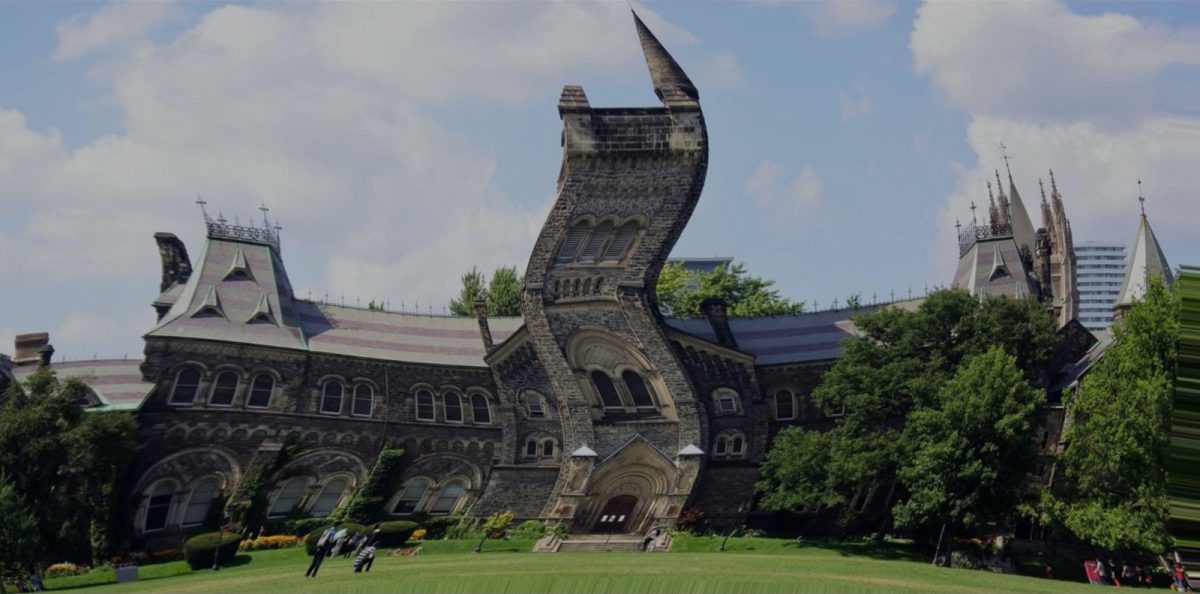 The University of Toronto has long been criticized for its general conservatism and lack of transparency; this story is almost as old as the university itself. Today, U of T's top-down, corporate approach is playing out in the midst of a global pandemic and uprisings in response to systemic anti-Black racism and police violence, at a time when deep structural changes that actually address violence, oppression, and inequality are needed.
As students at the Ontario Institute for Studies in Education (OISE), a world-renowned faculty of education that trains some of the world's top leaders in higher education, we are experiencing a disturbing disconnect between the training we receive and the top-down policies being deployed by the university's senior administrators.
The  administration's responses to students' concerns during this unprecedented time of precarity is corporate, patriarchal, and downright gaslighting. The administration prides itself in how it is managing the situation and claims to be listening to students, but, over and over, we hear from students that they are excluded from decision-making and their concerns are being dismissed and ignored. This article is a discussion of the University of Toronto's non-performativity of consultation and how this neoliberal strategy is leaving students to fend for themselves in the midst of a global pandemic.
Exposing our pain for minimal support
In our demand to be included in decisions that affect our well-being and livelihood, we are asking for processes that are people-centred and not institution-centred. As if the current crisis weren't enough, access to university support requires students to expose their personal lives and circumstances, and subjects them to further trauma. For example, to access emergency COVID-19 bursaries, students must prove they have maxed out their OSAP and lines of credit and that their families are unable or unwilling to financially support them. Recently, students who had been approved to receive tuition waivers for the fall term had these waivers nulled at the last minute, unless they were graduating within the term. As one Master's student remarked, "Why do I have to expose my pain and personal family conditions or … my personal finances to get $500 from the institution?".
For many students, especially international students, who have been excluded from federal support such as the Canada Emergency Student Benefit or the Canadian Emergency Response Benefit during the pandemic, this lack of institutional support exposes them to further risk that can mean the difference between life and death.
An international student pursuing a PhD at OISE recounts the burdensome experience of accessing basic support, stating that, "I applied [for] emergency funding, hoping to cover my rent, otherwise I will be homeless. I had to explain my 'suffering' on the School of Graduate Studies (SGS) website and the OISE portal. Because I am an international student, I was asked to first get lines of credit from the bank, and then I was sent a link to Career Learning Network and asked to apply for jobs. I had already applied to some positions on campus. I was also asked to reach out to my parents. To be considered for assistance, I had to come out to them and explain that unlike other folks who have 'good' relations with their parents, as a queer person, I don't have good relationships with my parents." Eventually this student received $600 from SGS and $500 from OISE. They described the amount as insufficient and had to defer their rent. Many students are now pinning their hopes on the fall to gain employment for survival.
Racist and ableist responses to student concerns
The pandemic has disproportionately impacted Indigenous, Black, and racialized communities, particularly those working in front-line and precarious positions (i.e. essential workers, care workers, cleaners, etc.). This includes students with caregiving responsibilities, international students, immigrants, disabled students, and those who are sick due to COVID-19.
The individualized "case-by-case" approach that university administrators have adopted for this crisis leaves the most vulnerable students behind. One needs to undergo immense bureaucratic labour to seek support. During the pandemic, students in our town halls have shared barriers they encountered, such as a lack of clarity about available supports and websites with confusing navigation, missing online forms, broken links, and conflicting information.
By putting the onus of extra unseen labour on students, U of T's individualized process places us in further precarity and excludes those who are unwilling or unable to demonstrate their hardships for their departmental administration and faculty.
Instead, their administrative processes rest on racist, gendered, classed, ageist, and ableist assumptions about who constitutes the normative student, further perpetuating existing inequalities. This is not about money, it is about priorities.
A recurring theme that has emerged from student-led initiatives is the need for additional funding (e.g. tuition relief, guaranteed funding extensions, needs-based bursaries, and employment). We hear these needs echoed in every place from student-led town halls and surveys to administrative assessments of student needs and well-being.
In part, the current financial insecurity that students are facing reflects decades of under-funding of postsecondary education by the federal and provincial governments. In the mid-1990s, federal budget cuts to postsecondary education funding transfers to the provinces were followed by tuition fee increases and deregulation of international tuition fees by provincial governments. As a result, international students experienced the largest tuition fee increases. This past spring, U of T's governing council approved increasing international tuition fees by an average of 5.4 per cent, prompting pushback from both international and domestic students.
As others have argued, the high tuition/high debt model creates barriers for students who are Indigenous, racialized, disabled, international, queer, trans, and single parents, as they are more likely to have lower incomes and less family support.
The financial insecurity students face also reflects competing priorities within the university and the choices made by senior administrators. Bloated administration numbers and salaries accompany shifts in workforce composition within postsecondary institutions. Over the past two decades, there has been an increase in precarious work, including teaching and research assistants, while securely employed full-time academic positions have been declining. Among those precariously employed, Indigenous and racialized women, individuals with disabilities, and immigrants are overrepresented.
In contrast, spending on administration, particularly highly paid personnel in managerial and professional positions, has increased. Last year, the annual salaries of the top 20 earners at U of T ranged from $420,000 to $800,000. In comparison, the median household income in Toronto is just above $70,000, and the base funding package for full-time graduate research-stream students at OISE is $24,850 (from which tuition and incidental fees are deducted).
Capital projects are another spending choice that diverts funds away from teaching and research and the people who make these activities possible. While claiming that the large capital expenditures are necessary and required for deferred maintenance on existing facilities, many of these expenditures go to new projects. For example, U of T's governing council has approved increased capital funding for the Centre for Civilizations, Cultures & Cities over the past six years. Yet, this past spring, 185 U of T service, administrative, and technical workers were laid off, while United Steelworkers Local 1998's casual unit shrank by 700 members compared to the same period last year.
The non-performance of consultation
Six months into the pandemic, OISE administrators have still not organized open forums where all students have a chance to express their concerns. The bulk of this unpaid work has fallen on student organizers as we develop letters and petitions directed at university administrators. Our actions and efforts continue to be met with indifference.
The administration's response to our concerns parallels the way senior administrators have responded to staff and faculty concerns pertaining to the reopening plans. As a result, six U of T unions have launched a joint petitiondemanding a safer reopening plan for the fall and meaningful consultation with front-line workers, including faculty, librarians, academic staff, service, and technical workers. Even as the petition moves into the fall term, with thousands of signatures, the administration fails to respond appropriately.
While the University of Toronto remains a public institution with teaching and research as its core purpose, its governance processes mirror the hierarchical corporate structures of the private sector. At the end of April, the Ontario Confederation of University Faculty Associations released a statement urging university administrators to uphold democratic, transparent, and accountable collegial governance practices as they plan their academic and operational activities for the summer and fall terms.
Unfortunately, we have not seen anything like this happen at the University of Toronto. On the contrary, six months into the pandemic, we continue to see the OISE and U of T administrations engaging in unilateral and non-consultative decision-making. Listening to students, staff, and faculty concerns has not translated into meaningful action. To quote critical theorist and feminist Sara Ahmed, "'saying' does not always 'lead' to 'doing.'" In the case of the University of Toronto, consultation has not even been performative, it has been downright non-existent.
To maintain their ranking as a world class institution, the University of Toronto needs to make it easier for students to remain students. They need to listen, but more than this, they need to act. They need to invest in their students by addressing the needs and concerns that actually affect us. In short, they need to ditch the neoliberal politics and meaningfully engage with the people that make their institution run.
Asmita Bhutani, Efrat Gold, Diana M. Barrero Jaramillo, and Ian Tian are students at the Ontario Institute for Studies in Education, University of Toronto.