A student-led campaign to end sexual violence at universities – Revolt Sexual Assault (RSA) – published the results of a national student survey last month. It shows that 70% of female students and 26% of male students have experienced sexual violence – and almost one in ten female students have been raped at university.
The 2016 report, Changing the Culture, provided new guidance to help universities tackle this issue, but recent findings suggest little has changed – at least for students. And the higher education sector has been criticised for being complacent – only 27 universities provide mandatory sexual misconduct training for staff.
Students often live, work, study and socialise together, making it difficult for some to speak out about sexual violence, and seek help without feeling judged. For example, when I was working with colleagues to develop ProtectED – a national accreditation scheme for student safety, security and wellbeing – we spoke to students who kept quiet about their experiences to avoid falling out with flatmates.
In this way, the "student bubble" creates problems for victims and survivors who must share lectures, halls and social spaces with their attacker. And the RSA survey found that, of those who had experienced sexual violence at university, 25% skipped lectures and 16% suspended or dropped out of their degree.
'Hot spots' for sexual violence
If students are to have a positive student experience and reach their potential, universities must do more to prevent sexual violence on campus. The RSA survey identifies a key area where universities need to target their efforts and resources – as a significant proportion of incidents take place on social occasions and in social spaces such as university bars and shops.
Research suggests alcohol plays a part in many incidents that happen in these spaces. Drinkaware found that 72% of 18-to-24 year-old women have been sexually harassed on a night out. The majority of university students fall into this age range, and the NUS Hidden Marks report also found that, in cases of serious sexual assault, 50% of respondents believed that the perpetrator was under the influence of alcohol.
Drinkaware's campaign, "You wouldn't sober, you shouldn't drunk", highlights how behaviour such as groping is normalised for many young people on a night out. As a student we surveyed explains:
Even though I know the sexual assault was wrong, it happened at the campus nightclub. I felt like if I had reported it, I would have been making a big deal out of nothing.
A duty of care
Universities need to send a clear message that this behaviour will never be tolerated, wherever it takes place. And, while the traditional model of campus security focuses on protecting property, more enlightened universities are beginning to adopt a more student-centred approach. For these institutions, their duty of care to students does not end at the campus boundary, or outside normal working hours.
Helping to keep students safe in social spaces, the University of Sheffield's "Ask For Angela" campaign provides a way for students to discreetly seek help from bar and door staff if someone is making them feel uncomfortable. At UCL, students can access the Departure Lounge, a safe space at UCLU club nights. This is run by sabbatical officers who can offer support and help students get home safely. Students' Union bar staff and members of the security team at the University of Bath have received Good Night Out training, helping them to intervene and appropriately respond to incidents of sexual violence. And Good Night Out posters are displayed in the venue, sending a clear zero-tolerance message.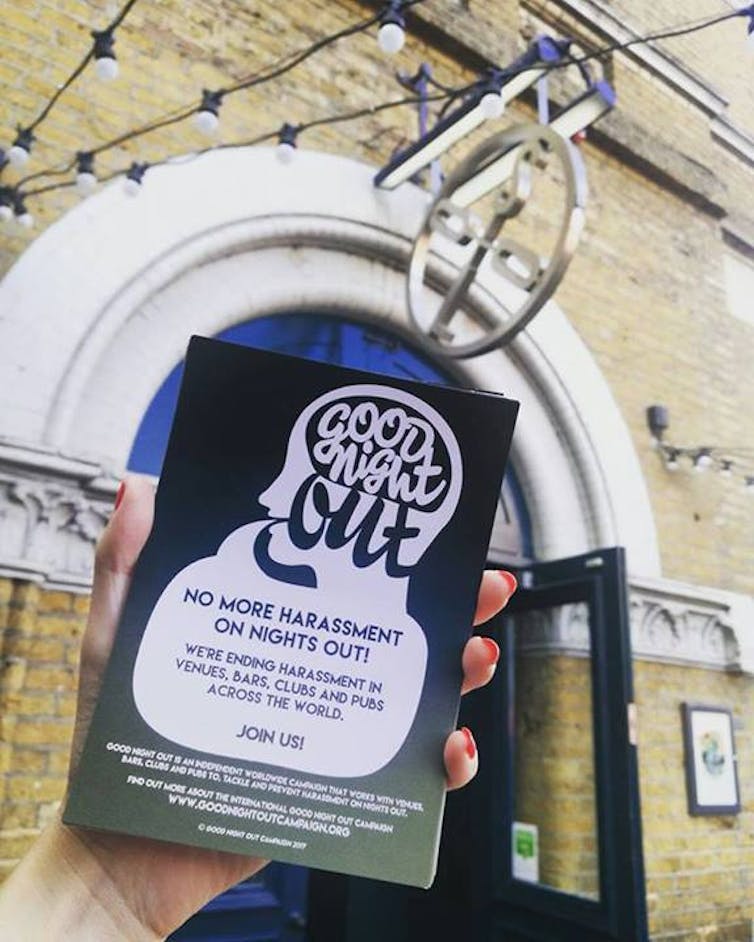 Some universities also work in partnership with the wider community to help students feel safe and supported. The University of Bradford is part of the Student Safe Spot scheme where local businesses offer refuge to students who feel distressed or threatened. Participating businesses display a sticker to let students know that they are welcome. Staff are trained to direct students to the appropriate support and can contact emergency services or university security, if needed.
At the University of York, the NightSafe scheme is run by student volunteers who are connected, via radio, to the police and door staff in the City's bars and clubs. Volunteers are trained in first aid and conflict management, and can be directed towards vulnerable individuals.
Students also need safe, reliable and affordable ways to get home after a night out. The University of Manchester Safe Taxi scheme lets students book secure vehicles with GPS tracking, and they can use their student ID card as "payment" if they have lost their wallet – this is collected from the Students' Union in exchange for the taxi fare on the following day.
Work to be done
But despite all of this great work being done at universities up and down the country, our research found these initiatives are not widely practised.
In a national survey, we asked students if their university had a safe zone initiative, safe taxi scheme, or student community wardens, 84%, 75% and 72% respectively said no, or that they didn't know. This is why we have developed measures to mitigate the risks that students face on a night out as part of our university accreditation scheme.

Ultimately though, more universities need to acknowledge their duty of care to students throughout the student experience – both on and off campus, and by day, as well as by night. This is essential if the hot spot areas for sexual violence on campus are to be targeted and adequately addressed.
Lucy Winrow, Researcher at ProtectED, University of Salford
This article was originally published on The Conversation. Read the original article.